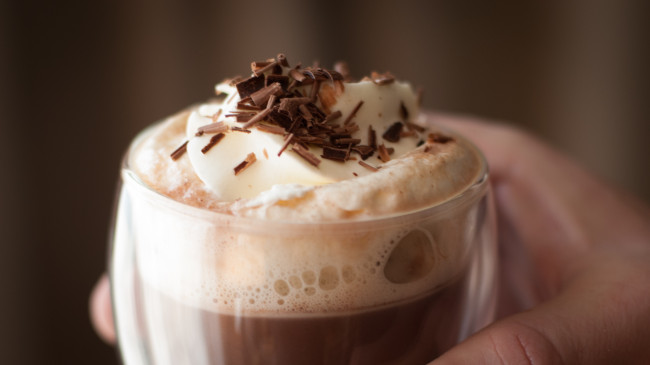 With food, as with life, you get out what you put in. Returns are proportional to investment. It shouldn't come as a surprise that dumping two scoops of powder into a mug of hot milk isn't an immersive experience. More often than not you end up with a too-sweet, flavorless mugful of swill with a layer of sludge at the bottom. Devotion to this routine has more to do with nostalgia than good taste. Why not try a little harder? Just a bit.
A rich cup of hot chocolate starts with good chocolate. Pick your poison. I prefer dark chocolate in the 60% range for this recipe – something good like Scharffen Berger, Valrhona or TCHO. I keep the additional flavors to a minimum: a touch of vanilla, a dash of cinnamon and a pinch of salt (to help the chocolate "pop"). Another option is just a bit of cayenne to add a little heat. In our house, fresh whipped cream on top is a requirement. Maybe a dusting of grated chocolate if you're trying to impress someone.
For all the talk of slow hot chocolate, this simple recipe comes together in about 15-20 minutes. Enough time to appreciate the ritual; not so long as to be discouraging. Drink up and slow down.
Yield
This recipe will produce about 26 ounces, enough for 4 reasonable servings. You can also make this ahead and keep it in the refrigerator for 24 hours or so.
Ingredients
¼ cup water
¼ cup granulated sugar
6 oz. chocolate rough chopped (see note above)
24 oz. whole milk
½ teaspoon vanilla extract
Dash of cinnamon
Pinch of sea salt
Fresh whipped cream
Chocolate shavings (optional)
Method
In a medium saucepan over low heat, dissolve the sugar in the water.
Add the chocolate, stirring constantly with a whisk to prevent scorching.
Once the chocolate is melted, add the milk and stir regularly, making sure there isn't any chocolate lingering on the bottom of the pan – mix it in well.
Add the vanilla, cinnamon, and salt and continue stirring over low heat.
Test the temperature with your finger or some more scientific technique, removing it from the heat when it's a little hotter than your preferred temperature.
Pour in the hot chocolate into you vessel of choice, leaving some room at the top of the glass.
Top off each glass with more whipped cream and perhaps some chocolate shavings, if you're feeling so bold.
Variation: A pinch of cayenne pepper to give the chocolate some heat.